Buy straps by widths here
Find the correct width of the strap or chain.
In order for your watch strap to fit exactly on your watch,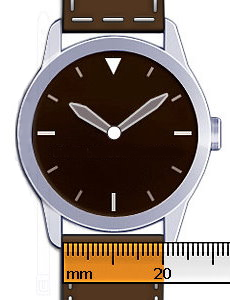 at Your Watch and Jewelry Shop we offers many different widths of watch straps and you must therefore choose the width strap that fits exactly to your watch.
To find the correct width, you must either measure the width of your old strap - or you can measure the distance between the two horns on the watch, in between which the strap should be fitted.
The measurement is only important for the strap is with straight standard mounting (as in the picture). If you require a special cutting on the strap, we recommend the original straps from the manufacturer.
Your Watch and Jewelry shop is an authorized retailer of many of the most important watch straps, which fits your special watch model..
You can find straps for the individual watch brands here
.